Test your Knowledge
Welcome to the NBCRNA's Question of the Week page. The question of the week (QOTW) serves as an extension of the NBCRNA's CPCA Practice and allows for CRNA's to become familiar with question types and content while testing their knowledge. Each week a new question will be posted on Facebook and Twitter, with the answer(s) and rationale provided here. Be sure to follow NBCRNA on social media and never miss a question!
Want to try more sample questions? Download the Question of the Week Booklets and get access to 13 questions that will help you get familiar with the question types and content you will find on the CPC Assessment.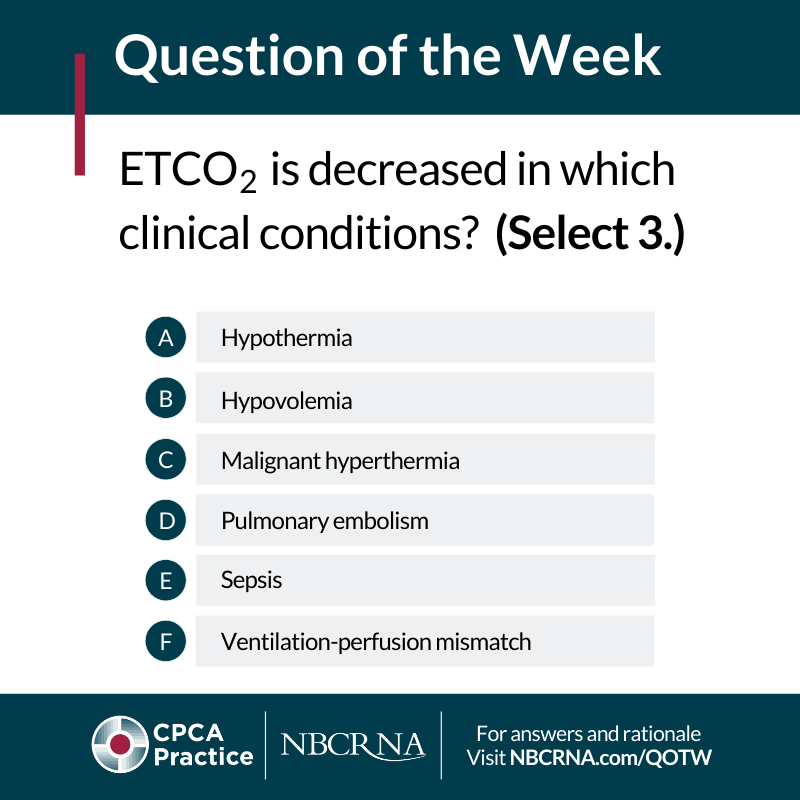 Answers: A, B, D

Rationale: Decreases in metabolic rate cause a decrease in ETCO2 levels, such as seen in hypothermia and hypovolemia. ETCO2 is also decreased with pulmonary embolism. Increased ETCO2 levels are seen in ventilation-perfusion mismatch, sepsis, and malignant hyperthermia.
Learn more about CPCA Practice. Up to four Class A credits available.